Trench heaters with natural convection FC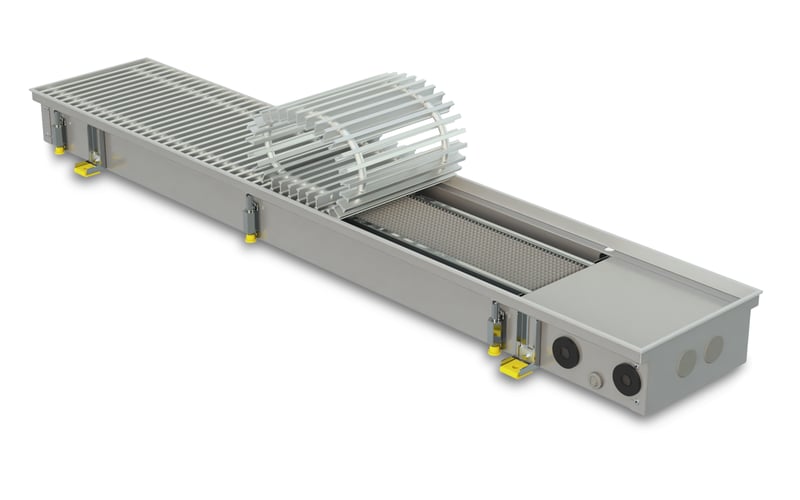 Trench heaters with natural convection FC
| | |
| --- | --- |
| Heat output | up to 7 322 W |
| Length | from 80 to 500 cm |
| Width | 22, 32 ir 42 cm |
| Height | 9, 11, 15, 30 ir 45 cm |

Heating

Natural convection
Buy






     These simple floor-mounted trench heaters FC operate on the principle of natural convection.
Optimal sized and located heat exchangers and specially designed air flow separation/deflection elements result a considerable capacity even without the use of a fan, thereby allowing these convectors to operate as the main heating appliance in high energy performance buildings.
Due to extremely low inertia, can quickly increase and maintain the set room temperature, providing the room with exactly as much heat as you require just when it is required.
Create an effective warm air curtain for large windows, without allowing cold to penetrate the premises. The heat is perfectly distributed throughout the room.
Fully floor-mounted, and therefore do not impede free passage.

Perfect for any interior

, as the only visible element is the grill, the material and colour of which can match the floor covering.

May be walked on and can easily withstand the weight of a number of adults.
The convectors are supplied with a stainless steel casings and copper-aluminium heat exchangers, to ensure they remain extremely reliable over the long-term.
FC heat outputs (W)
Width (cm)
Height (cm)
Length (cm)
80
90
100
110
120
130
140
150
160
170
180
190
200
210
220
230
240
250
260
270
280
290
300
320
340
360
380
400
420
440
460
480
500
22
9
179
211
242
274
305
336
368
399
430
462
493
524
556
587
619
650
681
713
744
775
807
838
870
932
995
1058
1120
1183
1246
1309
1371
1434
1497
15
256
301
347
392
437
482
528
573
618
663
709
754
799
844
890
935
980
1025
1071
1116
1161
1206
1252
1342
1433
1523
1614
1704
1795
1885
1976
2066
2157
32
9
243
289
335
381
427
473
519
565
611
657
703
749
795
841
887
933
979
1025
1071
1118
1164
1210
1256
1348
1440
1532
1624
1716
1808
1900
1992
2085
2177
11
252
300
347
394
442
489
537
584
632
679
727
774
822
869
917
964
1012
1059
1106
1154
1201
1249
1296
1391
1486
1581
1676
1771
1866
1961
2056
2151
2246
15
383
451
518
586
653
721
788
855
923
990
1058
1125
1193
1260
1328
1395
1463
1530
1598
1665
1733
1800
1868
2002
2137
2272
2407
2542
2677
2812
2947
3082
3217
30
566
665
764
863
963
1062
1161
1260
1360
1459
1558
1657
1756
1856
1955
2054
2153
2253
2352
2451
2550
2650
2749
2947
3146
3344
3543
3741
3940
4138
4337
4535
4734
45
730
857
983
1110
1237
1364
1491
1618
1745
1872
1999
2125
2252
2379
2506
2633
2760
2887
3014
3141
3267
3394
3521
3775
4029
4283
4536
4790
5044
5298
5551
5805
6059
42
9
292
343
393
444
495
546
596
647
698
749
800
850
901
952
1003
1053
1104
1155
1206
1256
1307
1358
1409
1510
1612
1713
1815
1916
2018
2119
2221
2322
2424
11
353
415
477
539
601
663
725
787
849
911
973
1035
1097
1159
1221
1283
1345
1407
1469
1531
1593
1655
1717
1841
1965
2089
2213
2337
2461
2585
2709
2833
2957
15
497
585
672
760
848
935
1023
1110
1198
1285
1373
1460
1548
1636
1723
1811
1898
1986
2073
2161
2248
2336
2424
2599
2774
2949
3124
3299
3474
3649
3824
4000
4175
30
737
867
996
1125
1255
1384
1514
1643
1772
1902
2031
2160
2290
2419
2548
2678
2807
2937
3066
3195
3325
3454
3583
3842
4101
4360
4618
4877
5136
5394
5653
5912
6171
45
875
1028
1182
1335
1489
1642
1796
1949
2103
2256
2410
2563
2717
2870
3024
3177
3331
3484
3638
3791
3945
4098
4252
4559
4866
5173
5480
5787
6094
6401
6708
7015
7322
Height 9 - 15 cm
Height 30 - 45 cm
Stainless steel casing

Casing stiffening elements

Cover for hydraulic connections

Air guiding element

Anodized aluminium frame; colour match the colour of grille

Copper - aluminium heat exchanger

Air vent

Protective - decorative grille (optional)

Height adjustment and vertical load supporting bolts

Noise isolating elements for adjusting bolts

Casing fixing to floor brackets

Noise isolating elements for floor brackets

Heat exchanger fixing and protection elements

Pipe sealing and protection elements

Cable sealing and protection elements

Plugs for unused holes

     Fasteners

    Installation manual

    5-layer, 2 parts cardboard box, additionally used for device protecting during installation and construction works

 
ROLL-UP ALUMINIUM GRILLES GR
| | | |
| --- | --- | --- |
| SILVER (ALS) | BROWN (AL10) | BLACK (AL50) |
| | | |
ROLL-UP WOODEN GRILLES GR
LINEAR ALUMINIUM GRILLES GR-L
| | | |
| --- | --- | --- |
| SILVER (ALS) | BROWN (AL10) | BLACK (AL50) |
| | | |
Room thermostats RTB 230
Controls thermal actuator TA230 according to preset room temperature

Dimensions 86 x 86 x 13,3 mm

Week timer

Operating temperature 5 - 35°C

Voltage -  230 VAC, max current- 3A

Power consumption - 1,5W

 

Thermostatic valve (straight)  TVS15
Controls flow of energy carrier. Controled by thermal actuator TA230 or capillary thermostatic head THC

 

Operating temperature -10℃ - 120℃

Thread 1/2″

Pressure rating - PN10

Kvs - 2,00

Bidy - brass covered by nickel

 

Lockshield (straight) LS15
Opens, closes or limits flow of energy carrier

 

Operating temperature -10℃ - 120℃

Thread 1/2″

Pressure rating - PN10

Kvs - 2,00

Bidy - brass covered by nickel

 

 

Lockshield (angle) LA15
Opens, closes or limits flow of energy carrier

Operating temperature -10℃ - 120℃

Thread 1/2″

Pressure rating - PN10

Kvs - 2,00

Bidy - brass covered by nickel

 

Thermal actuator TA230
Opens / closes thermostatic valve. Controled by room thermostat RTB

Operating voltage  -  230 VAC

Power consumption - 2,5W

Protection class - IP54

Thread - M30 x 1,5mm

Body material -  PC/ABS

 

Capillary thermostatic head THC
Controls preset room temperature

Temperature range 0℃ - 27℃

Protection against frozing

Length of capillary pipe - 1,2 m

Thread - M30 x 1,5mm

Body material -  ABS

 
 

 
ORDER CODES FOR TRENCH HEATERS
| | | | | |
| --- | --- | --- | --- | --- |
| TYPE       | LENGTH, cm | WIDTH, cm   | HEIGHT, cm | EXAMPLE              |
| FC | 100 | 32 | 11 | FC 100-32-11 |
ORDER CODES FOR GRILLES
| | | | | |
| --- | --- | --- | --- | --- |
| TYPE       | LENGTH, cm | WIDTH, cm   | MATERIAL   | EXAMPLE |
| GR | 200 | 32 | ALS | GR 200-32-ALS |
| GR-L | 140 | 22 | AL50 | GR-L 140-22-AL50 |
| | | |
| --- | --- | --- |
| GR      -   roll-up |                                      | ALS    -   aluminium, silver colour |
| GR-L   -   linear |   | AL10  -   aluminium, brown |
|   |   | AL50  -   aluminium, black |
|   |   | OAK   -   oak |
|   |   | ASH    -   ash |
|   |   | BEE     -   beech |
ORDER CODES FOR ACCESSORIES
| | |
| --- | --- |
| TYPE | ORDER CODE |
| Lockshield angle | LA15 |
| Lockshield straight | LS15 |
| Thermostatic valve straight | TVS15 |
| Thermostatic valve axial | TVA15 |
| Thermal actuator 230VAC | TA230 |
| Room thermostat | RTB |
| Capillary thermostatic head        | THC |