Wall-mounted fan coil WFN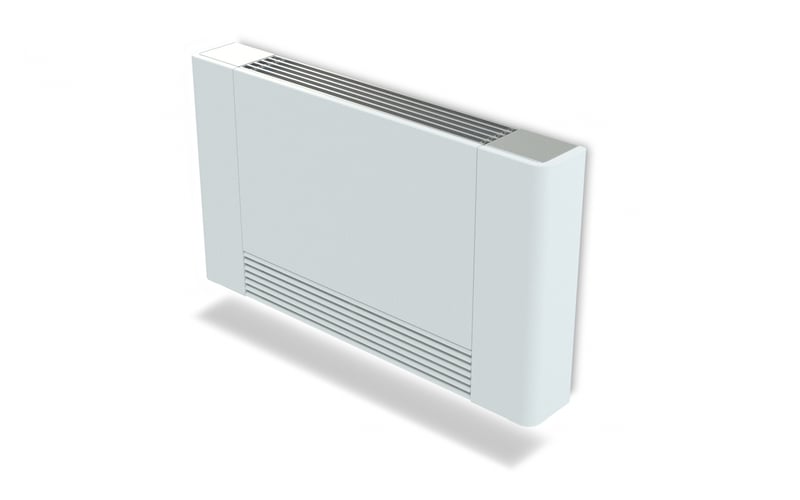 Wall-mounted fan coil WFN
| | |
| --- | --- |
| Length | 760; 960; 1160; 1360; 1560 cm |
| Width | 13 cm |
| Height | 54,5 cm |

Heating

Cooling

With fans
Buy






Powerful wall - mounted fan coils WFN are cost efficient and effective heating and cooling appliances. They have high capacity and can be used as the main heating and cooling devices, even in the case of low to medium energy performance buildings.
Wall - mounted fan coils WFN are ceated to work with heat pumps, however can work with all kinds of heat or cold sources

.

Controlled by room thermostat or by mobile app via Wifi. There is possibility of week programming. 
With included smart thermostats, with unique operating algorythm they ensure highest level of thermal comfort throughout the year, maintaining the desired temperature with accuracy of 0,5°C

.

High quality fans with brushless DC motors enable the WFN to work extremely quietly – they can be installed even it bedrooms.
Being fast - responding, they can heat up or cool down the rooms using exactly as much energy as needed and when it's needed, avoiding unnec- essary overheating or overcooling. This quality makes fan coils WFN one of the most efficient and economy heating – cooling devices.
A classic design and wide range of colour options allow it to be adapted to a wide range of the inte- rior designs and styles.
Thermostatic valve TVS15
Controls flow of energy carrier. Controled by thermal actuator TA230

 

Operating temperature

-10℃ - 120℃

Thread

1/2″

Pressure rating

- PN10

Kvs - 2,00

Bidy - brass covered by nickel

 

Lockshield (angle) LA15
Opens, closes or limits flow of energy carrier

Operating temperature  -10℃ - 120℃

Thread 1/2″

Pressure rating - PN10

Kvs - 2,00

Bidy - brass covered by nickel

 

Thermal actuator TA230
Opens / closes thermostatic valve

Operating voltage

 -  230 VAC

Power consumption - 2,5W

Protection class - IP54

Thread

- M30 x 1,5mm

Body material - PC/ABS

 

 

Lockshield (straight) LS15
Opens, closes or limits flow of energy carrier

Operating temperature  -10℃ - 120℃

Thread 1/2″

Pressure rating - PN10

Kvs - 2,00

Bidy - brass covered by nickel

 

 

 

 
ORDER CODES FOR CONVECTORS
| | | | | |
| --- | --- | --- | --- | --- |
| TYPE    | LENGTH, cm | WIDTH, cm     | HEIGHT, cm  | EXAMPLE  |
| WFN | 760 | 13 | 54,5 | WFN 760 |
ORDER CODES FOR ACCESSORIES
| | |
| --- | --- |
| TYPE | ORDER CODE |
| Lockshield angle | LA15 |
| Thermostatic valve                                   | TVS15 |
| Thermal actuator | TA230 |
| Lockshield straight | LS15 |