Wall-mounted convectors WMC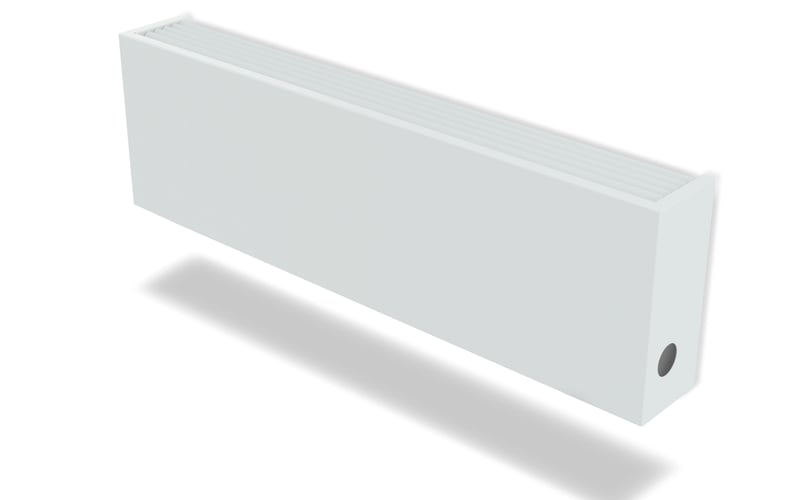 Wall-mounted convectors WMC
| | |
| --- | --- |
| Heat output | up to 4 956 W |
| Length | from 60 to 200 cm |
| Width | 8, 13, 18 ir 23 cm |
| Height | 30, 40, 50 ir 60 cm |

Heating

Natural convection
Buy





Natural convection wall-mounted convectors WMC are cost efficient and effective heating appliances. They have a high heating capacity and can be used as the main heating devices, even in the case of low to medium energy performance buildings.
Due to extremely low inertia, can quickly increase and maintain the set room temperature, providing the room with exactly as much heat as you require just when it is required.
Create an effective warm air curtain for large windows, without allowing cold to penetrate the premises.

The heat is perfectly distributed throughout the room.

The standard colour is white, but they are also available in other RAL standard colours on request.
A classic design and a wide range of colour options allow the convectors to be adapted to a wide range of the interior designs and styles.
The casings are safe: they have no sharp edges and do not reach temperatures over 40°C.
The design is simple and has been created for a fast and easy installation.
WMC heat outputs (W)
Width (cm)
Height (cm)
Length (cm)
60
70
80
90
100
110
120
130
140
150
160
170
180
190
200
8
30
191
239
287
335
383
431
478
526
574
622
670
718
765
813
861
40
207
258
310
362
413
465
517
568
620
672
723
775
826
878
930
50
222
277
333
388
444
499
555
610
666
721
777
832
888
943
999
60
237
297
356
415
474
534
593
652
712
771
830
890
949
1008
1067
13
30
395
493
592
691
790
888
987
1086
1184
1283
1382
1480
1579
1678
1776
40
451
563
676
789
901
1014
1127
1240
1352
1465
1578
1690
1803
1916
2028
50
490
612
735
857
980
1102
1225
1347
1470
1592
1715
1837
1960
2082
2205
60
529
661
794
926
1058
1191
1323
1455
1587
1720
1852
1984
2117
2249
2381
18
30
598
747
897
1046
1196
1345
1495
1644
1794
1943
2093
2242
2392
2541
2691
40
673
841
1009
1177
1345
1513
1681
1849
2018
2186
2354
2522
2690
2858
3026
50
747
934
1121
1307
1494
1681
1868
2055
2241
2428
2615
2802
2988
3175
3362
60
822
1027
1233
1438
1643
1849
2054
2260
2465
2671
2876
3081
3287
3492
3698
23
30
844
1055
1266
1477
1688
1899
2110
2321
2532
2743
2954
3165
3376
3587
3798
40
930
1162
1395
1627
1859
2092
2324
2557
2789
3022
3254
3486
3719
3951
4184
50
1016
1269
1523
1777
2031
2285
2539
2793
3047
3300
3554
3808
4062
4316
4570
60
1101
1377
1652
1927
2203
2478
2753
3029
3304
3579
3855
4130
4405
4681
4956
Powder coated steel casing
Brackets
Copper aluminium heat exchanger
Air vent
Heat exchanger fixing-protection elements

      Fasteners

      Installation manual

      Cardboard box
Thermostatic valve (axial) TVA15
Controls flow of energy carrier. Controled by thermostatic head TH

 

Operating temperature

 

-10℃ - 120℃

Thread

 

1/2″

Pressure rating

- PN10

Kvs - 2,00

Bidy - brass covered by nickel

 

Lockshield (angle) LA15
Opens, closes or limits flow of energy carrier

Operating temperature  -10℃ - 120℃

Thread 1/2″

Pressure rating - PN10

Kvs - 2,00

Bidy - brass covered by nickel

 

Thermostatic head TH
Controls preset room temperature

Temperature range

6℃ - 28℃

Accuracy

- 0,6K

Max temperature limitation

Frost protection

Thread

- M30 x 1,5mm

Body material

- ABS

 

 
ORDER CODES FOR CONVECTORS
| | | | | |
| --- | --- | --- | --- | --- |
| TYPE    | LENGTH, cm | WIDTH, cm     | HEIGHT, cm  | EXAMPLE  |
| WMC | 120 | 13 | 50 | WMC 120-13-50   |
ORDER CODES FOR ACCESSORIES
| | |
| --- | --- |
| TYPE | ORDER CODE |
| Lockshield angle | LA15 |
| Thermostatic valve axial                         | TVA15 |
| Thermostatic head | TH |