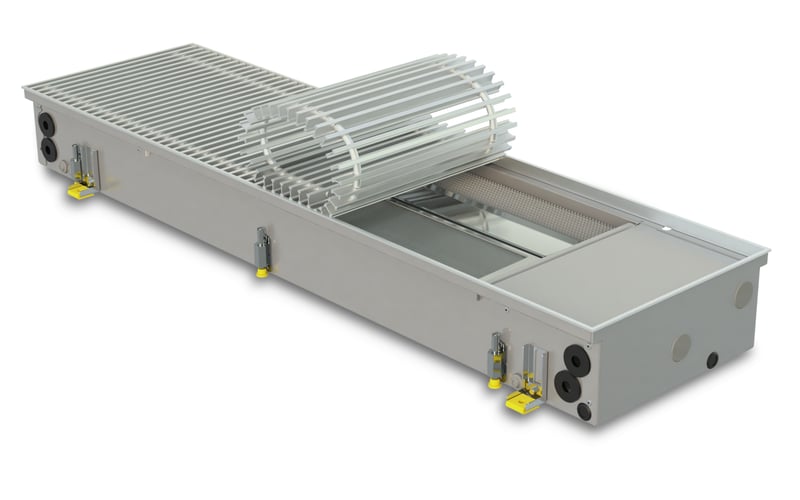 Trench fan coils FCH
| | |
| --- | --- |
| Length | from 120 to 300 cm |
| Width | 32 cm |
| Height | 13 cm |

Heating

Cooling

With fans
Buy






     FCH are among the most powerful trench heaters designed for heating and cooling.
Both heated and cooled air is raised right up the ceiling to result in an even distribution throughout the room.

4 and 2 pipe connection versions are available.

The 4 pipe connection

guarantees maximum flexibility, whereas the 2 pipe connection will ensure the maximum capacity.

The air flow

passing through the appliance is continuously filtered

to trap a considerable part of the dust and dirt in the room and protect the convector from contamination.

The set includes drain pans that allow the device to operate both above and below the dew point. 

Quiet and extremely economical EC fans

increase the convection efficiency more than 4 times, almost without any sound.

Due to extremely low inertia, can quickly increase and precisely maintain the set room temperature, providing the room with exactly as much heat as you require just when it is required.
Create an effective warm air curtain for large windows, without allowing cold to penetrate the premises. The heat is perfectly distributed throughout the room.
Operates very well with low-temperature heat sources, such as heat pumps or condensing boilers.
Fully floor-mounted, and therefore do not impede free passage.

Perfect for any interior

, as the only visible element is the grill, the material and colour of which can match the floor covering.

May be walked on and can easily withstand the weight of a number of adults.
Supplied with a stainless steel casings and copper-aluminium heat exchangers, to ensure they remain extremely reliable over the long-term.
FCH2 heat outputs/cooling capacities (W). 2-pipe system
Length (cm)
Rotation speed of fans
20%
40%
60%
80%
100%
120
973
1830
2523
3052
3418
170
1751
3294
4542
5494
6152
200
1945
3660
5047
6105
6835
250
2723
5124
7065
8547
9569
300
3501
6588
9084
10989
12303
FCH4 heat outputs/cooling capacities (W). 4-pipe system
Length (cm)
Rotation speed of fans
20%
40%
60%
80%
100%
120
901
1380
1661
1859
2013
170
1623
2485
2989
3347
3624
200
1803
2761
3321
3719
4027
250
2524
3865
4650
5206
5638
300
3245
4969
5978
6694
7249
Stainless steel casing

Brackets for heat exchanger

Hydraulic connections cover

Casing's stiffening elements

Air guiding element

Drain pan

Copper - aluminium heat exchanger

Air vent

Heat exchanger fixing - protecting elements

Fan with EC motor

Air filter

Vibration dampers for fan

Control box (optional)

Protective - decorative grille (optional)

Height adjustment and vertical load supporting bolts

Noise isolating elements for adjusting screws

Casing fixing to the floor brackets

Noise isolation elements for floor brackets

Pipe sealing and protection elements

Cable sealing and protection elements

Plugs for unused casing holes

Anodized aluminium frame; colour matches the colour of grille

     Fasteners

     Installation manual

     5-layer, 2 parts cardboard box, additionally used for device protecting during installation and construction works
ROLL-UP ALUMINIUM GRILLES GR
| | | |
| --- | --- | --- |
| SILVER (ALS) | BROWN (AL10) | BLACK (AL50) |
| | | |
ROLL-UP WOODEN GRILLES GR
LINEAR ALUMINIUM GRILLES GR-L
| | | |
| --- | --- | --- |
| SILVER (ALS) | BROWN (AL10) | BLACK (AL50) |
| | | |
Room thermostats RTB
Controls thermal actuator TA24 according to preset room temperature

Dimensions

86 x 86 x 13,3 mm

Week timer

Operating temperature 5 - 35°C

Voltage

-  24 VDC, max current

- 3A

Power consumption

- 1,5W

 

Thermostatic valve (straight)  TVS15
Controls flow of energy carrier. Controled by thermal actuator TA24

 

Operating temperature

-10℃ - 120℃

Thread

1/2″

Pressure rating

- PN10

Kvs - 2,00

Bidy - brass covered by nickel

 

Lockshield (straight) LS15
Opens, closes or limits flow of energy carrier

 

Operating temperature

-10℃ - 120℃

Thread

1/2″

Pressure rating

- PN10

Kvs - 2,00

Bidy - brass covered by nickel

 

 

Lockshield (angle) LA15
Opens, closes or limits flow of energy carrier

Operating temperature  -10℃ - 120℃

Thread 1/2″

Pressure rating - PN10

Kvs - 2,00

Bidy - brass covered by nickel

 

Thermal actuator TA24
Opens / closes thermostatic valve. Controled by room thermostat RTB

Operating voltage

-  24 VDC

Power consumption

- 2,5W

Protection class

- IP54

Thread - M30 x 1,5mm

Body material

 - PC/ABS

 

 

Control box CB60
For power supply of fans, actuators TA24 and room thermostat RTB

24VDC power supply

Power

- 60W

Current

- 0,84A

Electrical terminals

Stainless steel casing

 

 

 


 
ORDER CODES FOR TRENCH HEATERS
| | | | | |
| --- | --- | --- | --- | --- |
| TYPE          | LENGTH, cm | WIDTH, cm | HEIGHT, cm | EXAMPLE            |
| FCH2 | 200 | 32 | 13 | FCH2 200 |
| FCH4   | 200 | 32 | 13 | FCH4 200 |
ORDER CODES FOR GRILLES
| | | | | |
| --- | --- | --- | --- | --- |
| TYPE          | LENGTH, cm | WIDTH, cm | MATERIAL | EXAMPLE |
| GR | 200 | 32 | ALS | GR 200-32-ALS |
| GR-L   | 200 | 32 | ALS | GR-L 200-32-ALS |
| | | |
| --- | --- | --- |
| GR      -   roll-up                                           |                                                    | ALS    -   aluminium, silver colour   |
| GR-L   -   linear |   | AL10  -   aluminium, brown |
|   |   | AL50  -   aluminium, black |
|   |   | OAK   -   oak |
|   |   | ASH    -   ash |
|   |   | BEE     -   beech |
ORDER CODES FOR ACCESSORIES
| | |
| --- | --- |
| TYPE | ORDER CODE |
| Lockshield straight | LS15 |
| Lockshield angle | LA15 |
| Thermostatic valve straight        | TVS15 |
| Thermostatic valve axial | TVA15 |
| Thermal actuator 24VDC | TA24 |
| Control box | CB60 |
| Room thermostat | RTB |