Free standing convectors SC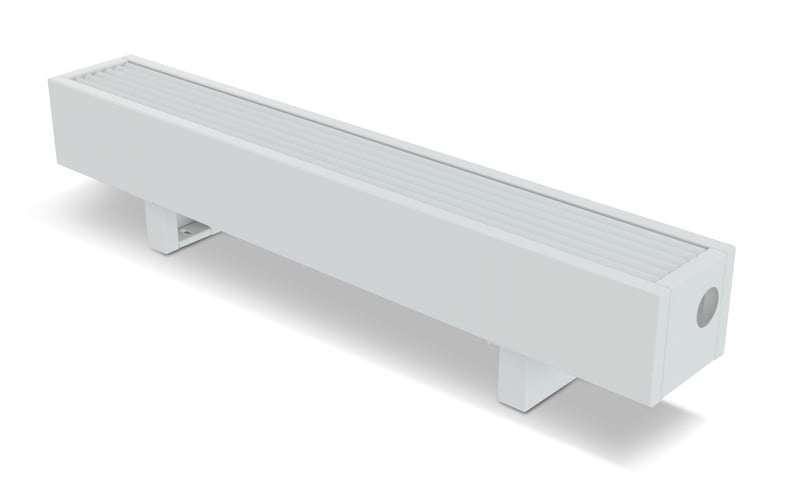 Free standing convectors SC
| | |
| --- | --- |
| Heat output | up to 5 095 W |
| Length | from 60 to 290 cm |
| Width | 15, 20 and 25 cm |
| Height | 14,5; 21,5; 26,5 and 33 cm |

Heating

Natural convection






Freestanding convectors SC operate on the principle of natural convection and are an economic alternative to trench heaters. Their heating capacity is high, which means they may be used as the main heaters for low to medium energy performance buildings.
Due to extremely low inertia, can quickly increase and maintain the set room temperature, providing the room with exactly as much heat as you require just when it is required.
Create an effective warm air curtain for large windows, without allowing cold to penetrate the premises.

The heat is perfectly distributed throughout the room.

The standard colour is white, but they are also available in other RAL standard colours on request.
A classic design and a wide range of colour options allow the convectors to be adapted to a wide range of the interior designs and styles, while the low casing will not obstruct the view through the window.
The casings are safe: they have no sharp edges and do not reach temperatures over 40°C.
The design is simple and has been created for a fast and easy installation.
SC heat outputs (W)
Width (cm)
Height (cm)
Length (cm)
60
70
80
90
100
110
120
130
140
150
160
170
180
190
200
210
220
230
240
250
260
270
280
290
15
14.5
178
223
269
314
359
404
449
494
539
585
630
675
720
765
810
855
901
946
991
1036
1081
1126
1171
1217
21.5
272
341
410
479
548
617
686
755
824
893
962
1031
1100
1169
1238
1307
1376
1445
1514
1583
1652
1721
1790
1859
26.5
324
407
489
571
653
735
817
900
982
1064
1146
1228
1310
1392
1475
1557
1639
1721
1803
1885
1968
2050
2132
2214
33
377
472
567
663
758
853
948
1044
1139
1234
1330
1425
1520
1616
1711
1806
1902
1997
2092
2188
2283
2378
2474
2569
20
14.5
267
335
403
471
538
606
674
741
809
877
945
1012
1080
1148
1215
1283
1351
1419
1486
1554
1622
1689
1757
1825
21.5
409
512
616
719
823
926
1029
1133
1236
1340
1443
1547
1650
1754
1857
1961
2064
2168
2271
2374
2478
2581
2685
2788
26.5
487
610
733
856
980
1103
1226
1349
1473
1596
1719
1842
1965
2089
2212
2335
2458
2582
2705
2828
2951
3074
3198
3321
33
562
704
846
988
1130
1273
1415
1557
1699
1841
1984
2126
2268
2410
2552
2695
2837
2979
3121
3263
3406
3548
3690
3832
25
14.5
373
467
562
656
750
845
939
1034
1128
1222
1317
1411
1505
1600
1694
1789
1883
1977
2072
2166
2261
2355
2449
2544
21.5
571
715
860
1004
1148
1293
1437
1582
1726
1871
2015
2160
2304
2448
2593
2737
2882
3026
3171
3315
3460
3604
3749
3893
26.5
659
825
992
1159
1326
1492
1659
1826
1993
2160
2326
2493
2660
2827
2993
3160
3327
3494
3660
3827
3994
4161
4327
4494
33
747
936
1125
1314
1503
1692
1881
2070
2259
2448
2637
2827
3016
3205
3394
3583
3772
3961
4150
4339
4528
4717
4906
5095
Powder coated steel casing
Powder coated steel brackets
Heat exchanger fixing-protection elements
Copper aluminium heat exchanger
Air vent

      Fasteners

      Installation manual

      5 layer 2 parts cardboard box, additionally used for device protection during installation and construction works
Thermostatic valve (axial) TVA15
Controls flow of energy carrier. Controled by thermostatic head TH

 

Operating temperature

 

-10℃ - 120℃

Thread

 

1/2″

Pressure rating

- PN10

Kvs - 2,00

Bidy - brass covered by nickel

 

Lockshield (angle) LA15
Opens, closes or limits flow of energy carrier

Operating temperature  -10℃ - 120℃

Thread 1/2″

Pressure rating - PN10

Kvs - 2,00

Bidy - brass covered by nickel

 

Thermostatic head TH
Controls preset room temperature

Temperature range

6℃ - 28℃

Accuracy

- 0,6K

Max temperature limitation

Frost protection

Thread

- M30 x 1,5mm

Body material

- ABS

 

 
ORDER CODES FOR CONVECTORS
| | | | | |
| --- | --- | --- | --- | --- |
| TYPE    | LENGTH, cm | WIDTH, cm     | HEIGHT, cm  | EXAMPLE  |
| SC | 120 | 20 | 13 | SC 120-20-13   |
ORDER CODES FOR ACCESSORIES
| | |
| --- | --- |
| TYPE | ORDER CODE |
| Lockshield angle | LA15 |
| Thermostatic valve axial                                | TVA15 |
| Thermostatic head | TH |